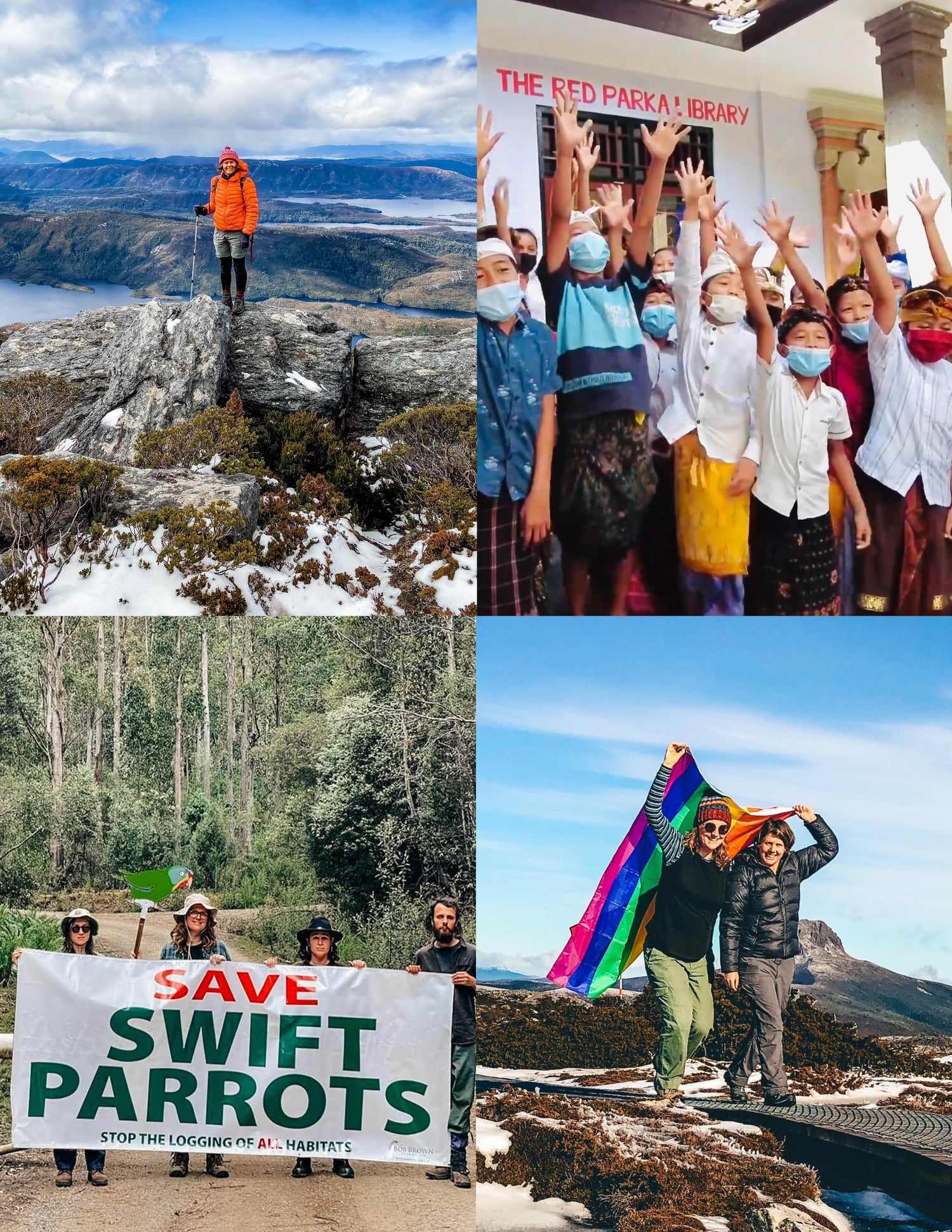 We donate 50% of our profits!
We want Red Parka to be more than a business and we want to do our part in making the world a better place. This is why we have made a commitment to donate at least 50% of our profits every year to charity!
In the early days of Red Parka, making enough money each week to pay the rent and put food on the table was a challenge. But over the years we have grown to become a sustainable small business with a steady income. We began seriously donating to charity a few years ago by designing various products which donated $1 per piece sold to conservation charities, and developing the Yay Gay range that donated 25% to equality and humanitarian causes. We also hosted fundraising sales throughout the year. Up to June 2023, we have donated over $113,000 to meaningful conservation and humanitarian organisations and charities via this method.
We always wanted to do more good as we could afford to, so we decided from July 2022, we will now donate at least 50% of our profits at the end of each financial year to charity. The remaining will be reinvested into our business to keep us going strong, keep our staff well paid, and enable us to keep writing books and creating art that makes a difference!
By donating 50% of our profits instead of different amounts from individual products, it simplifies things and enables us to be more generous, spending less time accounting and more time creating meaningful products! It also means you easily know that every time you purchase something from us, whether it's a book, a card, a tote bag or a pair of socks, that you are contributing to something bigger!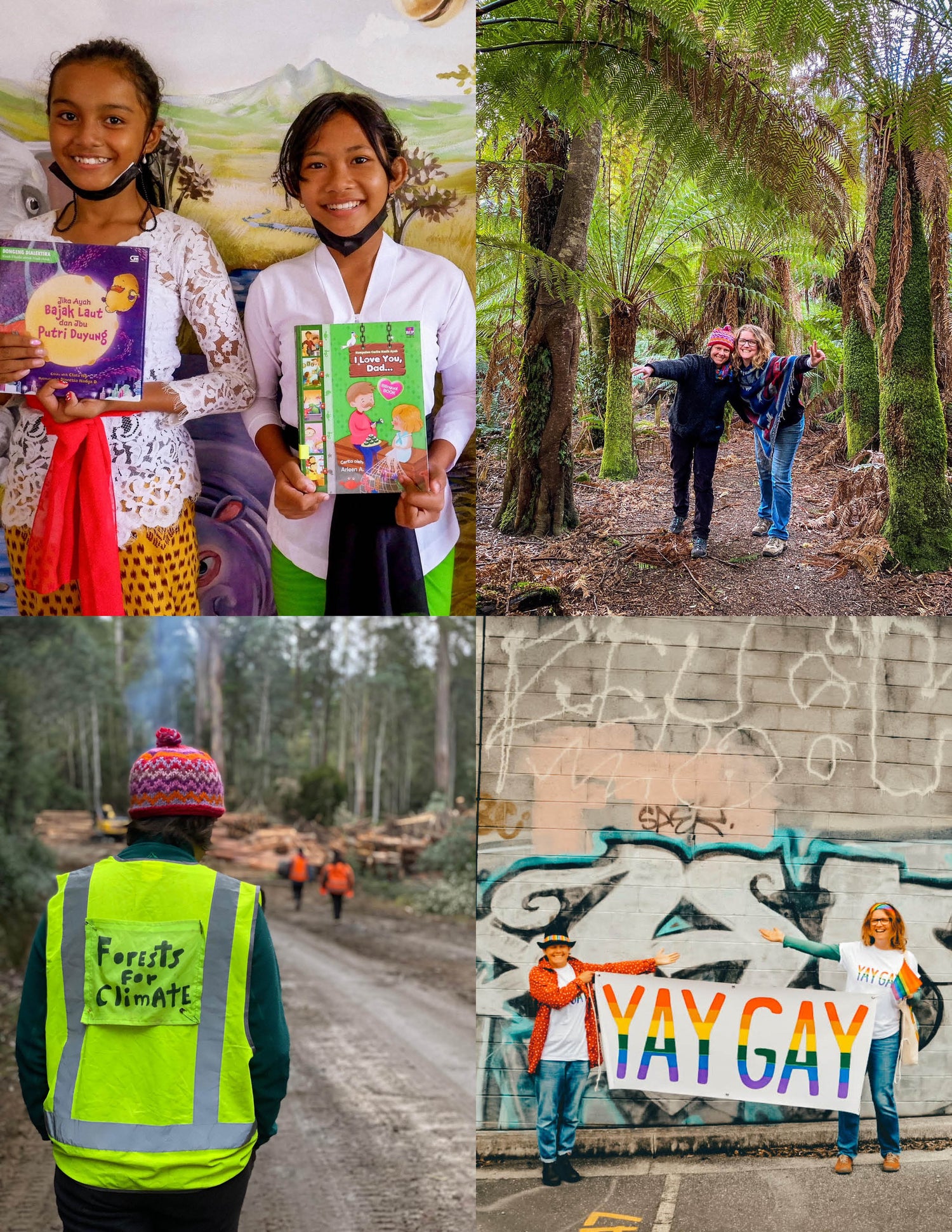 Who do we donate to?
We donate to many charities every year, including environmental, conservation, animal protection, humanitarian, lgbtqia+ and equality causes. We believe we are not free until we are all free, we are not equal until we are all equal, and we will not be safe until we are all safe.

Why do we do it?
The simple answer is because we can! We may not be rich but by sheer luck of our birth we are amongst the world's most privileged people. We have everything we need to be happy – a safe home, a supportive family, an income that is sufficient to keep us well fed, healthy and fulfilled. We don't need more for ourselves, so we choose to give instead of accumulating wealth.

The longer answer is because the world needs us all to help as much as we can! The climate and biodiversity crisis facing us has the world teetering frighteningly close to environmental, economic and societal collapse. This is why protecting the environment and animals is our top priority when it comes to giving. We are very aware of the connection between social injustice and climate action and understand that without working towards the eradication of extreme poverty and creating a more equal world for humanity, both in Australia and around the world, that global climate action will never be truly effective. This is why we also contribute significantly to equality, health, literacy. lgbtqia+ and other humanitarian causes.

We may be a small business on a small island at the bottom of the world, and the difference we make may also be small on a global scale, but we are aiming high and are determined to do everything we can to make the world a better place!

Thanks for being part of the Red Parka family and helping us to keep doing as much good as we can!
As of June 2023, our current tally of money donated to make the world a better place is $113,221.
We support many different organisations working in various conservation and humanitarian areas, both here in Australia and overseas, including the following:
Amnesty International
Australian Conservation Foundation
Australian Koala Foundation
Bali Children's Project
Birdlife Australia
Blue Derby Wild
Bob Brown Foundation
Bonorong Wildlife Sanctuary and Hospital
Bush Heritage Australia
Edgars Mission
Environmental Defenders Office
Equality Tasmania
Fistula Foundation
Fred Hollows Foundation
Greenpeace
Indigenous Literacy Foundation
Landcare Tasmania
Oxfam
Rainforest Rescue
Seed (Indigenous Youth Climate Network)
Tasmanian Land Conservancy
The Orangutan Project
Transcend
UNHRC Refugee Council
UNICEF
Wildcare Tasmania
Working It Out Tasmania